Customer Service Week (CS Week) is an international event celebrated annually during the first full week in October when customer-oriented organizations and institutions around the world recognize the importance of customer service excellence to their organizations. The 2023 Customer Service Week will run from the 2-6th of October 2023.
What is the Customer Service Week
Customer Service Week has been celebrated in the United States since the late 1980s. In 1991 the U.S. Congress proclaimed it a nationally recognized event. Customer Service Week celebrations have since spread across the globe and in 2016 the Week was celebrated in all 50 U.S. states and 60 countries. The range of organizations participating is equally broad, including leading financial, healthcare, insurance, manufacturing, retailing, hospitality, communications, not-for-profit, and educational organizations, as well as government agencies, and others. 
Customer Service Week 2022
Why should my Organisation Celebrate
It provides a unique opportunity for service and support professionals around the globe to join in a celebration of the important role that customer service plays in every organization.
It is an opportunity to show your customers your dedication to good customer service, thank your team for their role in improving customer service, and reflect on what needs to be improved.
The five core goals of the Week are:
Celebrate front-line staff who are the flag bearers of the company.
Thank customers for their loyalty.
Remind your team of the need to be a customer-centric organization.
Tell your customer service success stories.
Renew your dedication to service excellence.
Africa will join the world to celebrate CS Week in 2023 from Monday 2nd October, through to Friday 6th October. The themes of each day are as follows: ( By Institute of Customer Service) 
Day 1: The Future of AI
Day 2:  Service with respect day.
Day 3: Customer Service as a Profession.
Day 4: Driving sustainable growth.
Day 5: Service Recognition day
The 2023 Customer Service week Theme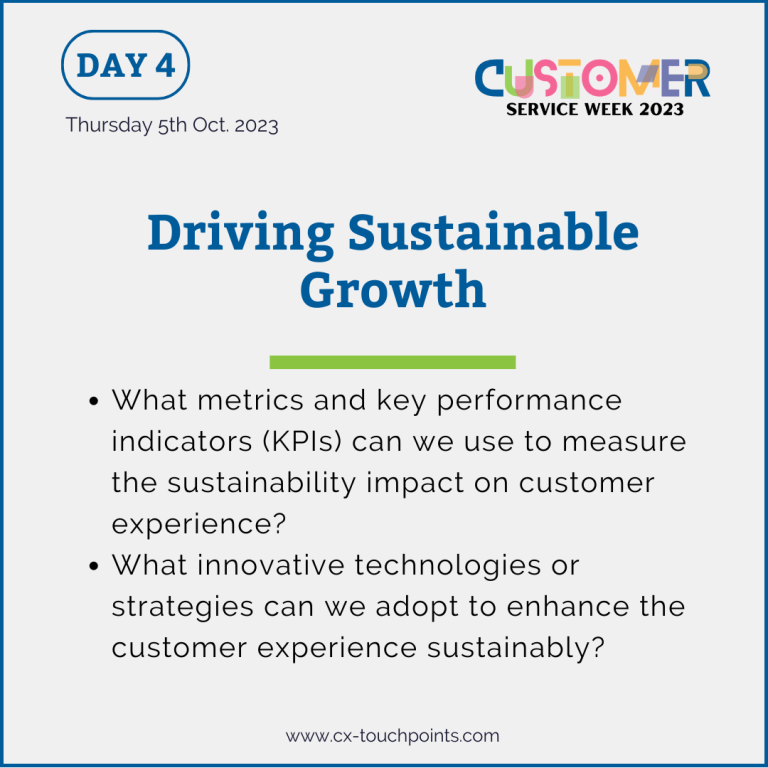 These flash cards and Customer Service week logo can be downloaded and used without prior permission.
Customer Service week ideas
Here are some ideas your team can select from on how to celebrate the CS week.
Customer Service Week 2022
Here are flash cards, logo and other materials which you can download and use on your gadgets, materials and designs for the week. (The flash cards, designs and logos can be used free of charge, organisations can add their company logos to the designs).
We are the Africa CX Experts
Book a guest speaker, Trainer or animator for the week.
Would you like to have a guest speaker, trainer or consultant to accompany you through your customer service week? This is what we can do for you:
Give inspirational and educative customer experience talks, that reminds your team of the value of great service and the role each person has to play.
Provide you with employee focused customer service training. Both online and face to face, during the customer service week.
Animate group discussions with your team on the 5 themes of the week, each day during the customer service week.